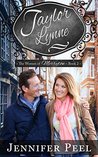 Taylor Lynne
by
Jennifer Peel
My rating:
4 of 5 stars
This is a good example of why Jennifer Peel is one of my favorite contemporary romance authors. I love that her stories are unique and often focus on married couples working on their relationships. It's a nice change from the typical romances I read where the main couple is meeting and falling in love for the first time.
In this book, Taylor and Easton had been married for about seven years before they divorced. The story picks up fourteen years after their divorce when their daughter requests to move back closer to her father so she can get to know him and his nine-year-old daughter better. Being the good mother Taylor is, she puts her own fears aside and agrees to the move. Hoping to see little of her ex, she is in for a surprise when Easton wont leave her alone!
A part of me thought Taylor was a bit rash in leaving and divorcing Easton, but on the other hand considering her upbringing and insecurities I could see why she did what she did. She did have valid concerns and Easton didn't do much to stop the divorce either. I'm a sucker for second-chance love stories and really enjoyed seeing Taylor and Easton get another shot at love. I also loved the relationship between the sisters and how everyone gets a HEA. Is that too spoilery?
Anyway, this was a fun read and one I'd easily recommend. Can't wait to read Rachel's story coming out in a couple weeks!
Content
Romance: Clean -kissing and very mild innuendo
Language: None - mild, maybe one curse word
Violence: None
Religious: Mild
Series: Book two in Women of Merryton, but can stand on its own.
View all my reviews